---
Edna Fischer (1902 - 1997)
San Francisco's First Lady of Radio
Hear Edna Fischer's 1937 "Carefree Carnival" NBC broadcast.
Edna Fischer introduces Acme Beer Time on KNBC.
---
Mayor Dianne Feinstein proclaimed Oct. 1, 1983, "Edna Fischer Day"
in San Francisco to honor the City's First Lady of Radio.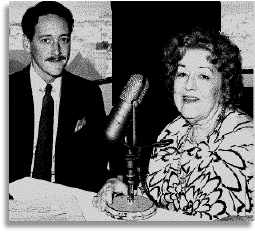 The proclamation was celebrated with a gala party and radio broadcast at the Top of the Mark on Nob Hill. Here Miss Fischer is interviewed by San Francisco musicologist and pianist Peter Mintun for his popular "Music in the Air" broadcast originating from Nob Hills' Hotel Mark Hopkins.
Miss Fischer spent her earliest years in the East Bay. "I grew up in Berkeley; my family moved there a few weeks before the earthquake in 1906," she said, recalling that, as a tot, she played "Glow-Worm" for San Francisco refugees arriving in Berkeley aboard trains from the burning city. "I was considered a child prodigy–played the piano around the neighborhood before I was old enough to go to school," Miss Fischer said.
Upon graduation from Berkeley High School she toured with the famed Duncan Sisters, Vivian and Rosetta, in their famous show, "Topsy and Eva."
In her teens she performed at the 1915 Panama-Pacific International Exposition.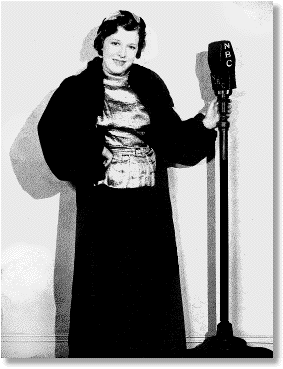 Edna Fischer's radio career began in 1918, at Berkeley's Claremont Hotel, where she participated in an experimental broadcast. "It was some sort of experimental station – I think it became KRE later on," she recalled.
"In 1926," she said, "I suffered a multiple fracture of my right wrist in a car crash, canceled some East Coast appearances, and while I was recuperating Fred Sherman (of San Francisco's Sherman, Clay & Co.) encouraged me to get into radio at KFRC."
KFRC-AM (610 kHz) then broadcast from studios in the plush Don Lee Cadillac building at 1000 Van Ness Ave. There, she became a regular on "Blue Monday Jamboree," one of the earliest, and most popular local radio programs in the history of San Francisco radio, where she starred with Tommy Harris and Morey Amsterdam.
She recorded "The Varsity Drag," and "Rag Doll, " in Oakland, and both were released as Victor 21380 in 1928.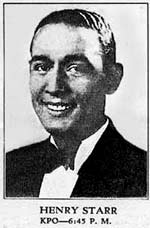 Miss Fischer is credited by Tom Fleming, veteran African American journalist, with presenting the first black entertainer on San Francisco radio. Fleming wrote:
"The first black entertainer to get on a radio show in San Francisco was Henry Starr, a fine Oakland-born musician. He had left Oakland in the 1920s to work in Los Angeles and on the East Coast as a piano player, with some of the very good black entertainers of that period. He was gone for a long time before he came back home. Then he was hired as a star of a variety show known as the Edna Fischer Show on KFRC in San Francisco. It became very popular. Thousands of listeners turned their radios on every morning, and the names of the stars were well-known locally."
In the very early 1930s she was hired away from KFRC by KPO, the Chronicle-Hale Brothers' station broadcasting from Fifth and Market streets, in the building that now houses Marshall's Department Store.
The station was soon sold to NBC, and, in 1933, studios moved to the 21st floor of 111 Sutter St. There, KGO and KPO (now KNBR) originated local programs, as well as shows to NBC's Red and Blue networks. She appeared with major musical stars, including her close friend Meredith Willson, later author and composer of "The Music Man." He was NBCs musical director at San Francisco during the mid-1930s.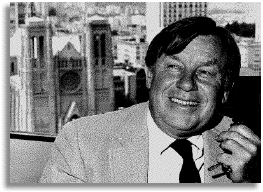 "Examiner" columnist, broadcaster and noted jazz historian Philip Elwood, shown here at the elegant Hotel Mark Hopkins celebration, recalled in 1983 that, as a child, his mother travelled to San Francisco in the mid-1930s, and "I would tag along and have her leave me at 111 Sutter St...at the piano, usually, was Fischer, a short, dark-haired, intense young woman. At the time I was in awe of all radio personalities – I am still in awe of Edna Fischer. Her piano playing 45 years later, remains superb, her memory sharp, her stories (tinged with warmth, frankness and humor) a joy to hear."
Edna Fischer was crowned the "First Lady of San Francisco Radio" during this golden era.
She appeared on scores of major radio shows including Signal Oil's "Carefree Carnival" with Tommy Harris and Meredith Willson and wrote the "Carefree Carnival" theme. She also appeared on important Los Angeles radio broadcasts. "I'd go to L.A. quite often–used to drive down and back in an old Buick, with my dog for company. I played all kinds of radio shows, worked with Paul Whiteman, among others, and helped in studio productions," Miss Fischer recalled.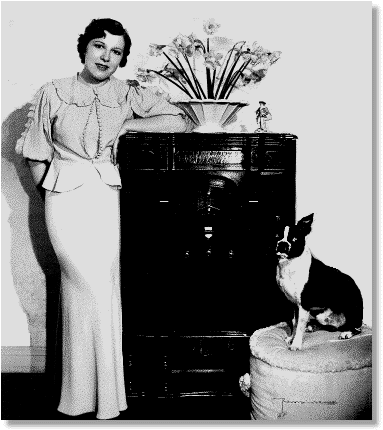 In 1929, she composed "Someday Soon" with lyrics by the Duncan Sisters. Anson Weeks and his Orchestra recorded the hit song in San Francisco for Columbia Records on June 21, 1929. Miss Fischer and Weeks composed "Sorry" in 1930 with lyrics, again, by the Duncan Sisters.
At right, Miss Fischer is pictured in this NBC promotional photograph posing with her dog "Flippy," a gift from an admiring listener.
By the late 1930s she was a household name in the City, and her broadcast, "Stars in the Making" on NBC-KPO, showcased San Francisco's latest musical talent discoveries.
In 1939 Miss Fischer originated broadcasts from NBCs studios at the Treasure Island World's Fair and composed "There's Lots of Fun Over on Treasure Island"; her theme song for the duration of the 1939-1940 Golden Gate International Exposition.
She was one of the vanguard of San Francisco radio and night club stars who entertained troops at Fort Ord before the outbreak of World War II. After the war began, Miss Fischer appeared at war bond rallies and USO shows at Bay Area Army and Navy bases. She also composed "My Great, Great Grandfather," a patriotic song waxed for Decca in 1942 by her close friend Bing Crosby. As part of the war effort,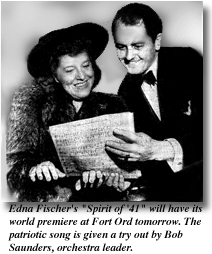 she appeared on three episodes of Carleton E. Morse's legendary prime-time NBC Red Network radio serial drama "One Man's Family," where she performed her patriotic song to an audience of millions.
She continued at NBC through the 1940s, and remained a major radio star after KPO changed its callsign to KNBC in the late 1940s.
With the ascent of television in the late 40s and early 1950s, Miss Fischer became music director of KPIX-TV, then located at Hotel Mark Hopkins. There, she worked with such musical stars as Del Courtney.
In 1928 she married Milton C. Hayes, a purser for Oceanic Lines steamship company. He was later general manager of the Press Club of San Francisco, at 555 Post St., and by the mid-50s she had effectively retired.
Milton Hayes passed away in 1981, and two years later Miss Fischer came out of retirement with a new edition of "Stars in the Making" on San Francisco's National Public Radio station KALW-FM.
San Francisco radio listeners wrote hundreds of fan letters to welcome Miss Fischer back to the air, as did "Chronicle" columnist Herb Caen, seen here at her Top of the Mark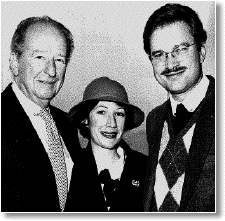 gala with Don Neely, leader of the Royal Society Jazz Orchestra and vocalist Carla Normand. Miss Fischer had just appeared on KCBS-AM with Neely's orchestra in Peacock Court, Hotel Mark Hopkins.
"Stars in the Making" proved so popular on KALW, in the mid-1980s, that Miss Fischer also broadcast a weekly fifteen-minute piano medley of her favorite songs on the NPR station.
In early 1997, Miss Fischer enjoyed a second retirement in her comfortable Cathederal Hill condominium, and kept in close, daily contact with hundreds of friends, who included Herb Caen, who, in early 1996, reminded his "Chronicle" readers of Miss Fischer's famous radio signoff - "Stay Wonderful."
Edna Fischer died in her sleep November 2, 1997.
---
- Dave Fowler
November 1997
Photos &31983 by Rob Thomas. NBC-KPO publicity photographs, by Romaine, provided to the Museum by Miss Fischer. Discographic research by Peter Mintun.
---
Return to the top of the page.