To Open Victor Plant on Coast
E.J. Dingley, Assistant Sales Manager, now in Oakland in Connection With Opening of New Recording and Pressing Plant in That City – George Hall to Be in Charge
---
CAMDEN, N.J., March 8.–E.J. Dingley, assistant sales manager of the Victor Talking Machine Co., has gone to Oakland, Cal., to look after the general details in connection with the opening of the company's new recording and pressing plant in that city. The new plant, which has been under construction for some time, is expected to be in operation within a month or so and will be in direct charge of George Hall, who had been connected with the recording department of the Victor Co. in Camden for many years and is thoroughly conversant with the work. Mr. Dingley will remain on the Coast for several weeks until everything in the new plant is running smoothly.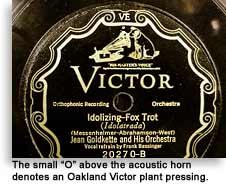 The new recording and pressing plant is expected to prove of great benefit to the Victor dealers on the Pacific Coast and in the Rocky Mountain section. It will permit of the quick recording of the singing and playing of Western artists, and the pressing department will facilitate the releasing of new records minus the delays incident to shipping across country.
---
The Talking Machine World
New York, March 15, 1924
---
The Oakland plant pressed tens of thousands of Victor 78-rpm recordings, including the Jean Goldkette record seen at right. The "O" above Nipper signified an Oakland pressing.
This "Victor scroll" label, incidentally, is for the Jean Goldkette recording of "Idolizing," waxed October 12, 1926 as Victor 20270-B. The recording featured Leon "Bix" Beiderbecke, Joe Venuti, Eddie Lang and Frankie Trumbauer among others. The vocal refrain is by Frank Bessinger. Goldkette records such as this are highly prized by collectors. This recording is from the Museum's holdings.
For more about the Victor Talking Machine Co., see
Tim Gracyk's homepage.
Victor Talking Machine - RCA Radiola Alliance - 1925
Return to top of page