SINCLAIR WOULD PLACE JOBLESS ON RANCHES
---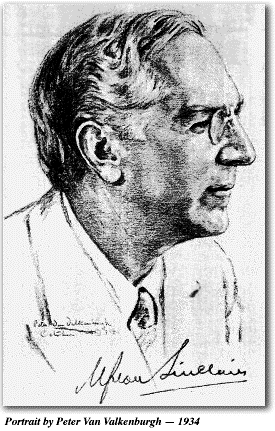 Socialism, communism or a solution to California's problems?
These are questions debated from one end of the state to the other today wherever the "EPIC" plan is mentioned.
Behind the plan is Upton Sinclair. It is in reality his platform in his race for the Democratic nomination for governor. It is officially the "End Poverty in California" program, and from the initials of these words comes the "EPIC."
The most discussed part of the plan is Sinclair's idea of placing unemployed on farms which are taken by the state for failure to pay taxes. In cities, closed factories and shops would be opened and unemployed put at productive labor. The laborers would produce the goods, the farmers the food, and a system of exchange would be employed.
It would be a great change in California government, but Sinclair has always advocated change. Famous as an author, his books have always managed to cause the same storm of discussion that his Epic plan now starts in politics.
It is only recently that Sinclair has become a Democrat. He was originally a Socialist.
Sinclair was born September 20, 1878, in Baltimore, Md. The Sinclair family lost its fortune in the Civil War, and while Upton was still young, his parents moved to New York City, where his father obtained a position as a traveling salesmen.
Young Sinclair was educated in East Side public schools in New York. At the age of 15 he started writing fiction and jokes for magazines and newspapers. Thus he paid his way through City College, from which he received his A.B. in 1897. He took post graduate work at Columbia.
In 1900, married Meta H. Fuller, and a son, David, was born to this union. In 1911, divorced his first wife and in 1913 married Mary Craig Kimbrough.
From 1901 to 1906, turned out such novels as "King Midas," "Prince Hagen," "The Journal of Arthur Stirling," "Manassas" and "Captain of Industry." But he made only $1000 on the lot, and nearly starved before he was "discovered" by the American readers.
Finally made $30,000 from "The Jungle," but lost it all when he invested in Helison Hall, a home colony, and it burned.
In 1906, he was a candidate for Congress in New Jersey. In 1920, ran for Congress on Socialist ticket in California. Ran for United States senator in 1923 and for governor of California 1926 on the Socialist platform.
Founded the Intercollegiate Socialist Society, now the League of Industrial Democracy, and founded the American Civil Liberties Union of California.
Has written forty-three books, published in thirty-four countries, and innumerable articles.
When he finds time, plays tennis and has won several tournaments. But tennis has to wait now, until after the primary election.
---
Call-Bulletin
San Francisco
July 12, 1934