---
DR. DEVINE'S STATEMENT
Benevolent people throughout the entire country, who contributed to the relief of San Francisco after the great disaster of last April, will be relieved and gratified by the statement of Dr. Edwin L. Devine, of the Red Cross, that there was no "graft" in the handling of the funds after they reached the stricken city, and that Mayor Schmitz, although now under indictment for other offenses, did not take "a single penny of the relief fund."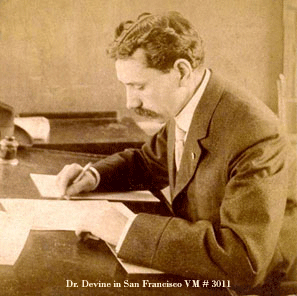 This assurance, coming from the man who was sent to San Francisco as the special representative of the Red Cross, to supervise the relief work, is extremely welcome because of the wild reports that have been circulated at one time or another about huge embezzlements of the money placed at the disposal of the committees that were charged with responsibility for its distribution. It is true that there are still complaints that money raised for San Francisco never reached that city. One such instance has been admitted, and the amount made good by those charged with forwarding it. Other supposed cases were being investigated. Still, even though the charges that relief money was embezzled enroute should prove to have substantial foundation, such a crime, however abhorrent, would not cause the general dismay that would be produced by the discovery that men at San Francisco, in the midst of scenes of suffering, had stolen funds designed for the succor of their unfortunate fellow citizens. Such a depth of turpitude would almost make even an optimist lose faith in mankind. It would certainly be the crowning disgrace of a city already a byword for municipal corruption.
There is little doubt, however, that Dr. Devine's statement as to the absence of "graft" in administering the relief fund will be generally accepted as conclusive. In any event, people will wish to so regard it. Full faith, to, will be given to his assertions in reply to the many charges of mal-administration in the conduct of relief work. He frankly admits that mistakes may have been made, and that all the unfortunates at San Francisco may not have fared alike. And he is very convincing in his statement: "I can say to you tht none of the people suffered for the necessaries of life. there was none who was not supplied with food, clothing, bedding and shelter, all that was absolutely necessary. You have read the contrary, but it is not true. I challenge any one to prove that they were not supplied with the necessaries of life. They did not die of exposure, starvation and neglect, but they got well, and these things could not have been if they had suffered as some one represented that they had. There was no stealing or graft that could be prevented."

On the whole, the statement of the Red Cross representative will go far to restore confidence that had been seriously impaired.
---
San Diego Union
San Diego, California, November 22, 1906
---
Return to the 1906 Earthquake Exhibit.