---

This brief biography of Lt. George Derby was written by American humorist and "Puck" editor John Kendrick Bangs (1862-1922) for the 1903 edition of Phoenixiana, or Sketches and Burlesques, By John Phoenix. It was published by Appleton and Company, New York.

---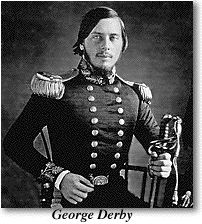 George Horatio Derby (1823-1861) of Massachusetts graduated from West Point in 1846 and served in the Army Topographical Engineers at Vera Cruz and Cerro Gordo before being sent to California in 1856.
He remained there for seven years, leading three exploring expeditions and winning a place as one of the state's first humorists with pieces published in the San Diego Herald and republished around the nation. Phoenixiana was published in 1855. It contains Derby's pieces as "Professor John Phoenixiana" and "Squibob," poking fun at such topics as military surveyors and explorers; contemporary travel accounts of the Mission Dolores, Benecia, Sonoma, San Francisco, and San Diego; literary societies and women's clubs; astronomy; and Army life.
Had Lieutenant George H. Derby been a professional fun-maker, the production of such a work as Phoenixiana might possibly have proved a solemn task and a wearisome effort; but this Squibob was not. His real work in life was that of a soldier, and an engineer. He was graduated at the United States Military Academy at West Point in 1846. His career was an arduous one. He suffered hardships of the more strenuous order. He was a fighter in the Mexican War. He sustained severe wounds in the battle of Cerro Gordo, and for gallant and meritorious conduct upon that occasion was brevetted first lieutenant. On behalf of the government he conducted surveys and explorations in what at that time were waste places within our borders. Heavy responsibilities devolved upon him—the responsibilities of leadership in pioneer days—and it is the testimony of his record on file at the War Department at Washington that his shoulders bore well the burdens they carried—burdens which in the end cost him his life. His last commission was a surveyor and lighthouse engineer on the Florida coast, in the discharge of the duties of which he suffered a sunstroke, which affected his eye-sight and caused softening of the brain, from which he died in 1861.
There are in various parts of the country today silent witnesses to his skill as an engineer and fidelity as a servant of his country, but the greater fame which will attach to his name comes from the things of his spirit which throughout all his trials remained unaffectedly simple, sunny, and helpful, both to self and to others. The fact, and it seems to be the fact, that he turned to his pen for the meed of pleasure which comes from forgetfulness of the trials incident to the day's work, appears to me the chief reason for his unquestioned success as a fun-maker. There was that in his nature which struggled always for expression, even under the most unpromising conditions, and which, held in restraint by more pressing things, once given an outlet, bubbled forth with all the vigor and spontaneity of a geyser. One finds no trace of a taskmaster driving his muse in Phoenix's fun, and for that reason it is of the best.
---
John Kendrick Bangs
Profile House, New Hampshire
August 12, 1903
---
This is a sample of Lt. Derby's humor from Phoenixiana, first printed in 1856. Fleas were a perpetual problem for early Californians who were pestered by them all along the coast of the state.
---
ANTIDOTE FOR FLEAS
THE following recipe, from the writings of Miss Hannah More, may be found useful to your readers:
In a climate where the attacks of fleas are a constant source of annoyance, any method which will alleviate them becomes a desideratum. It is, therefore, with pleasure I make known the following recipe, which I am assured has been tried with efficacy:
Boil a quart of tar until it becomes quite thin. Remove the clothing, and before the tar becomes perfectly cool, with a broad flat brush, apply a thin, smooth coating to the entire surface of the body and limbs. While the tar remains soft the flea becomes entangled in its tenacious folds, and is rendered perfectly harmless; but it will soon form a hard, smooth coating, entirely impervious to his bite. Should the coating crack at the knee or elbow joints, it is merely necessary to retouch it slightly at those places. The whole coat should be removed every three or four weeks. This remedy is sure, and, having the advantage of simplicity and economy, should be generally known.
So much for Miss More. A still simpler method of preventing the attacks of these little pests is one which I have lately discovered myself; —in theory only—I have not yet put it into practice. On feeling the bite of a flea, thrust the part bitten immediately into boiling water. The heat of the water destroys the insect and instantly removes the pain of the bite.
You have probably heard of old Parry Dox. I met him here a few days since, in a sadly seedy condition. He told me that he was still extravagantly fond of whisky, though he was constantly "running it down." I inquired after his wife. "She is dead, poor creature," said he, "and is probably far better off than ever she was here. She was a seamstress, and her greatest enjoyment of happiness in this world was only so, so."
---
Bibliography of George Horatio Derby
Prepared by the staff of the Museum of the City of San Francisco
from the holdings of the California State Library System.
Derby, George Horatio, 1823-1861.
Phoenixiana : a collection of the burlesques & sketches of John Phoenix, alias John P. Squibob, who was, in fact Lieutenant George H. Derby, U.S.A. / edited by Francis P. Farquhar. San Francisco : Grabhorn Press, 1937.
Derby, George Horatio, 1823-1861.
Phoenixiana; or, Sketches and burlesques. By John Phoenix "pseud.". New York, D. Appleton and company, 1856.
Derby, George Horatio, 1823-1861.
Plan of proposed routes for a wagon road between San Diego and Fort Yuma, Cal. : prepared by order of Maj. Gen'l. Wool, Com'dg. Pac. Div. / by Geo. H. Derby, Lieut. Top'g. Engineers, April 6, 1855. 1855.
Derby, George Horatio, 1823-1861.
Reconnaissance of the Tulares Valley : made by order of Brev. Brig. Gen. Riley, commanding 10th. Mil. Dept. / by Lieut. G.H. Derby, Topl. Engrs. ; drawn by Lieut. Derby.
Derby, George Horatio, 1823-1861.
The Sacramento Valley from the American River to Butte Creek / surveyed & drawn by order of Genl. Riley, commandg. 10th Military Dept. by Lieut. Derby, Topl. Engrs., September & October, 1849. [Washington, D.C.? : s.n.], 1849.
Derby, George Horatio, 1823-1861.
Survey of San Diego River and its vicinity : with a view to the construction of a levee and canal to turn the river from its present course, by order of Col. J.J. Albert, Chief of U.S. T. Engrs. / by George H. Derby, Lt. T. Engrs. ; assisted by C.H. Poole, C.E. New York : J. Ackerman, lith., 1853.
Tyson, Philip Thomas, 1799-1877.
Geology and industrial resources of California: by Philip T. Tyson. To which is added, the official reports of Genls. Persifer F. Smith and B. Riley—including the reports of Lieuts. Talbot, Ord, Derby and Williamson, of their explorations in California and Oregon; and also of their examinations of routes for rail road communication eastward from those countries. Baltimore, W. Minifie & Co., 1851.
United States. Army. Corps of Engineers.
Report of the Secretary of War, communicating, in compliance with a resolution of the Senate, a reconnoissance of the Gulf of California and the Colorado River by Lieutenant Derby. [Washington, D.C.? : s.n.], 1852.
Derby, George Horatio, 1823-1861.
Riley, Bennett, 1787-1853.
Ord, Edward Otho Cresap, 1818-1883.
Sketch of General Riley's route through the mining districts : [of California] July and Aug. 1849 / Copied from the original sketch by Lt. Derby in the Office of the 10t. Military Dept. by J.M. Hollingsworth Asst. [Washington, D.C. : U.S. Congress, 1850?] (N[ew] Y[ork] : Ackermans's Lithogr.)
Stewart, George Rippey, 1895-
John Phoenix, esq., the veritable Squibob, a life of Captain George H. Derby, U. S. A. / New York, H. Holt and company [c1937].
Return to the top of the page.