A House Founded Upon Its Brass
---
It was the year 1850, and vague rumors of a fabulous gold strike in California were sweeping Paris. The rumors fell on the receptive ears of a young apprentice in a brass foundry, who packed up his wife and two children and boarded a sailing ship for the New World.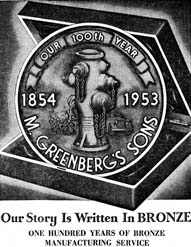 Sailing through the Straits of Magellan, the ship sunk–but not the apprentice, Morris Greenberg, and his family.
He reached California in 1851, where disillusioned miners informed him that there was no more gold in the hills.
Instead of turning around, Greenberg decided to seek a more solid kind of wealth, and in 1854 established the "M. Greenberg, Eagle Brass Foundry" at 58 Halleck street.
The new foundry served the maritime industry and the utilities of the city– a dual service continued by his son and grandsons during the past 100 years.
In the 1850s and 60s Greenberg's produced bronze spikes for wooden ships which sailed through the Golden Gate, and horse-collar pipes and nozzles for hydraulic mining.
Its proudest product and invention, however, was the new California-type fire hydrant, which is reproduced on Greenberg's Sons' service pins.
The hydrants, which maintained constant pressure, were considerably handier and more reliable than the Eastern types. They were a great boon to the early volunteer firemen who were paid by the insurance companies. The recompense depended on the value of the unburned portion of the buildings saved by their efforts. The fast, reliable fire hydrants meant more money in their pockets.
Today the number of employees has increased from the original 15 to 250, but the fire hydrant is still king at the modern plant at 765 Folsom street.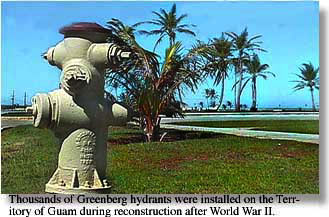 The maritime industry, however, is becoming an increasingly important customer.
Under the presidency of Stuart N. Greenberg, grandson of the founder, a large part of the production facilities have been turned over to the manufacture of maritime fittings, especially for minesweepers which use only anti-magnetic bronze fittings.
One of the firm's proudest moments came shortly after Pearl Harbor, when the crippled USS Pennsylvania limped into San Francisco.
She was rapidly being whipped into fighting condition, when lack of special 10-inch bronze valves brought the whole work to a halt.
The Navy phoned frantically across the country, but no firm could supply the needed valves without lengthy delay. Finally, a clerk in Washington dimly remembered that Greenberg's Sons had the original pattern for the valves. A rush call was placed and in eight days the USS Pennsylvania steamed off for the fighting front.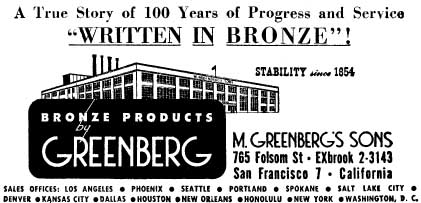 ---
In: World Trade
San Francisco Chronicle
May 22, 1953