---
San Francisco's waterfront once boasted a small railroad, known as the State Belt Railroad, that shuttled freight cars along the Embarcadero. The line went into rapid decline, in the 1970s, after the City of San Francisco took control of the port from the State of California, and lost most of the shipping business to Oakland. By the 1990s the port was moribund, and the Belt Railroad was discontinued. The main tracks of the line have been replaced by a new waterfront streetcar line, though remnants of the Belt line trackage may be seen on many of the piers between the Ferry Building and Pier 45. The Belt line's roundhouse still stands along the Embarcadero near Pier 27.

---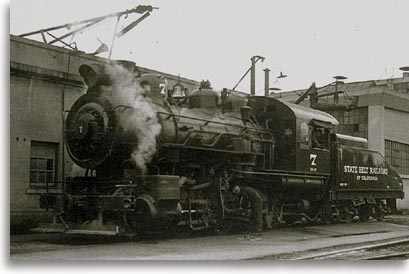 The Port's Railroad Has the Best Connections
The link between the piers of the Port of San Francisco and the railroads that carry its cargoes to market and to ship is the State-owned State Belt Railroad.
Any San Franciscan who drives the Embarcadero with any frequency has had to pull up now and then and wait for the black and white Diesels pulling a string of freight cars.
The Belt Railroad is a terminal switching railroad, meaning that it makes connections only. It does not perform any service other than switching service.
Its equipment consists of six 1000-horsepower Diesels.
The entire system of trackage is operated as a single yard. The equipment and crews do not go beyond the tracks owned or operated by the Belt Railroad. They provide necessary connection with the four line- haul carriers serving San Francisco.
The Southern Pacific Company has a direct connection with the Belt Railroad. The Atchison, Topeka and Santa Fe Railway Company, the Western Pacific Railroad Company and the Northwestern Pacific Railroad Company interchange with the [Belt rail]road via car ferry barges.
Cars are interchanged directly with Southern Pacific at least nine times per day and more frequently if necessary. Cars are interchanged with Northwestern Pacific five times a day, the Santa Fe at least six times a day, the Western Pacific four times and day and oftener when necessary.
Ordinarily the State Belt does not hold loaded cars on its tracks, but has a limited amount of siding available for such holding if necessary. The distribution of empty cars to facilities on the State Belt is controlled by the trunk line carriers furnishing the equipment. A limited accumulation of empties is occasionally allowed in the yards when a particularly heavy demand for empties occurs.
The State Belt Railroad levies charges on a per car basis regardless of the length of haul. Demurrage accruing on cars moving on the system is collected by the line haul carrier controlling the equipment. The only exception is the so-called special demurrage provided by the Belt tariff for cars moving entirely from one location on the Belt to another location also on the Belt.
---
San Francisco Chronicle
World Trade Section
May 22, 1953
Go to San Francisco Railroad History.