---
'Barbary Coast' Modernization Begun
in '39 Fair Beauty Drive
$100,000 Development Scheduled on Site Of Famed Midway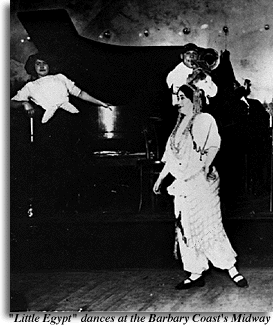 San Francisco's pre-Exposition civic beauty campaign today had swept into the once-famed Barbary Coast.
Pioneering in the district, at $100,000 transaction in line with the modernization and improvement campaign preliminary to the 1939 Golden Gate International Exposition was announced today by the San Francisco Real Estate Board.
Sale of the property at the corner of Columbus, Kearny and Pacific avenue—once the site of the Midway, [591 Pacific Street] known around the world—to McKale Inc. for erection of a new superservice station was reported by Trevor & Co.
McKale's operate ten superservice stations in San Francisco and twenty in Seattle.
Accelerated activity in the entire downtown area was reported in the pre-fair modernization and city beautification campaign, with the new Columbia network "radio center" addition to the Palace Hotel nearing completion, work speeding on the Claus Spreckels building and the Fielding Hotel, and extensive programs of improvement under way or to start soon on the Sutter Hotel, Pacific States Hotel, Balboa building, Hearst building, Alaska Commercial building and the 375 Sutter building.
---
San Francisco Call-Bulletin
December 18, 1937