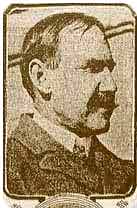 San Francisco's concern in the wreck of the Titanic was increased yesterday when it became known that Dr. Washington Dodge, assessor of San Francisco; Mrs. Dodge and Washington Dodge Jr., their 5-year-old son, were among the passengers on the lost steamer.
No news of any kind has been received in San Francisco by the immediate relatives and friends of the Dodges, so it is not known whether they were among the rescued passengers.
Just Offered Bank Job.
Dr. Dodge was returning with his wife and son from a tour of Europe. Recently he was proffered the position of first vice president of the Anglo and London-Paris National Bank and obtained a sixty-day leave of absence from his office as Assessor.
The health of Dr. Dodge had not been of the best when he obtained the leave of absence and one of the objects of the tour abroad was to consult a specialist in Paris.
The family spent most of its time in Paris. The Dodges were due to return to San Francisco on April 25.
They had made special arrangements to leave Paris in time to be booked as passengers on the maiden voyage of the great liner.
Long in Public Eye.
Dr. Dodge, a graduate of the medical school of the University of California, was a familiar figure in the public life of San Francisco for more than fifteen years.
In 1896 he was elected a member of the Phelan Board of Supervisors. Two years later he was elected Tax Assessor by a majority exceeding 5,000 votes.
When he ran for re-election under the new charter his majority was 17,000.
Since that time he ran successively and was re-elected, invariably being among the city officials polling the most number of votes.
Sails Before Schedule.
Mrs. Eliza Dodge, mother of Dr. Dodge, received a letter from him in Berkeley about three weeks ago, saying that it was not his intention to sail for thirty days.
Evidentally he changed his mind at the last moment to avail himself of the opportunity of sailing on the initial transatlantic voyage of the largest steamship afloat.
Dr. Dodge's marriage seven years ago with Mrs. Fontaine, widow of the French sugar magnate, attracted much attention among the social set of San Francisco. It was Dr. Dodge's second marriage, his first wife being divorced. Henry Washington Dodge, a youth of 21, is a son by the doctor's first marriage and lives at the family home here.
Mrs. Dodge is a daughter of the Rabbi Vidaver. She spent her girlhood in this city.
Miss Vida Fontaine, a daughter of Mrs. Dodge by her first marriage, is attending a private school in San Mateo.
The Dodge home is at 2129 Laguna street.
---
San Francisco Examiner
April 16, 1912
---