Sutter's Diary
Entries for 1838
---
The Diary of Johann August Sutter
The Life of Johann August Sutter
by Douglas S. Watson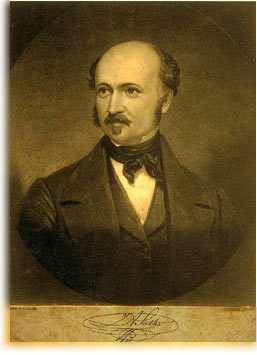 IN the German Grand Duchy of Baden, at Kandern, there was born on the last day of February, 1803, to a Swiss family named Suter a male child who, though baptized Johann August, became known in after life as Captain John A. Sutter.
No figure in the swift moving story of the West has been more loosely written about. He has been dramatized, caricatured, idealized. By some he has been raised to the heights of a superman; by others lowered to the status of a befuddled drunkard. The truth regarding Sutter is seldom spoken. He was an adventurer; a planter of civilization in the wilderness, and through his efforts alone was due the Discovery of Gold in California, the results of which peopled the former Spanish and Mexican province with Americans who laid the foundations of our present day commonwealth.
Sutter, picturesque adventurer; German born; Swiss, American, Mexican, and again American by successive naturalizations, was the victim of circumstances which would have overwhelmed men of the most resolute fibre--circumstances which tossed him about as viciously as if caught in the grip of angry, swirling waters.
At 31 a bankrupt, he fled his creditors, leaving his wife Anna Dubelt Sutter and their four children in Burgdorf, Switzerland. Reaching New York he determined to seek fortune in the then Far West, there to retrieve his failure. The Indiana backwoods were unkind to one whose hands had never held an ax, and he moved on to the Missouri frontier.
Then followed an essay into land speculation at St. Charles, which proved disastrous. An attempt to establish himself as a trader into Santa Fe proved unfruitful, and he finally was cast up in 1838 in that great entrepot of the fur trade--St. Louis.
There began his Odyssey which led him to the Wind River, to the Hudson's Bay Company's Fort Vancouver on the Columbia, to the tropical delights of Honolulu, and then by way of Sitka, at length, to California.
Sutter was an amiable man, quick to make friends, eager to leave upon all a good impression. Though poor in pocket, he was rich in imagination. A fictitious portrait of his past he painted with gusto for the delectation of his listeners. The tale of his military career as officer of the Swiss Guards of Charles X of France was so often repeated that finally its author almost came to believe it. The self-bestowed title of Captain sat easily upon his braced shoulders and gave credence to his assumed martial bearing.
Here is a letter received from a descendant of the Captain. It has to do with this much disputed point in Sutter's eventful career.
"Reverend Schoonover who wrote Life and Times of General Sutter [T. J. Schoonover, Sacramento, 1895] claims that he (Sutter) served as Captain in the French Army under Charles X, and you state that he did not....Which is right? You or Reverend Schoonover? I say you are right. John A. Sutter never served in the French Army. I know this to be perfectly true because I had investigated it and nothing could be found in this regard in the French Records ...."
The above, quoted only in part, addressed to the writer of this foreword, is signed; "Reginald Sutter, grandson of General Sutter."
Officials of Hudson's Bay Company, prominent residents of Honolulu, Russians in high places at Sitka, accepted the genial adventurer at his face value and gave him contributions to the precious packet of letters of introduction and recommendations he later used to so great advantage. Like a snow-ball this sheaf of credentials grew; it laid the foundations for his monumental scheme of exploitation of the Sacramento waste-lands and so impressed Governor Juan Bautista Alvarado, when the wanderer reached California in the summer of 1839, that there was granted to him eleven square leagues of virtual sovereignty where the Rio de los Americanos flowed into the Sacramento River; and all this at the mere price of abandoning his recently acquired American citizenship for Mexican overlordship.
With a handful of followers, mostly Kanakas, he began his New Helvetia settlement. His successful handling of the savage Indians, and a slow accretion in numbers of adventurous spirits like himself, pulled him through those first years when success hung in the balance. With the building of his Fort and the increase in immigration from the United States, the future of his establishment became assured. His ready geniality provided what he needed. Herd-owning Dons sold him cattle and horses on credit. Indians cleared, sowed and harvested his grain fields. From wild grapes, his distillery made a famous brandy. Beaver and land otter skins were bartered for necessities, and with native military acumen, his fort was garrisoned with savages drilled into something more than a semblance to soldiery, and, as he remarks in a note on the muster roll reproduced at the end of this volume, commanded in German.
From being a nobody, Sutter with the years found himself a person of consequence, a man even governors of California were glad to have as friend.
The Russians, who had exhausted the fur possibilities of their establishments at Bodega and Fort Ross, decided to abandon California and were looking for a buyer. Sutter presented himself. He had no money, yet he would buy; and he did, on credit. Among the moveables he obtained--for the Russians had no title to the land--were herds of cattle, bands of horses, droves of sheep and swine, and, best of all, a schooner the lord of New Helvetia rechristened "Sacramento." This extended his military adjuncts, for it provided him with a navy, and made him as independent of the existing government as any medieval baron. In truth he was Lord of the Marches, for to his other activities he had added the coinage of money, even if it was tin money; pieces of that metal stamped with figures denoting its value and which he accepted in trade at his Fort.
At length his pseudo-title of Captain became real, for Manuel Micheltorena, the new governor Mexico had sent to California, feeling the need of adequate military support, called Sutter to him at Monterey and made him captain of Mexican militia. In return for this recognition, Sutter later came to the Governor's aid when that official was beset with revolt. The disastrous campaign of 1845, while it ousted Micheltorena, found Sutter with a second grant of land--this time of 22 square leagues in extent. Such was his situation when the American flag was raised over California by Commodore John Drake Sloat at Monterey, July 7, 1846.
Where once the Mexican tri-color had floated over Sutter's Fort, now the Stars and Stripes snapped in the breeze. Fremont and his enlarged survey crew were in possession, and the Lord of New Helvetia found himself again on American soil, but as an unbidden guest in his own establishment. The command of his Fort was given into the hands of Edward M. Kern, the artist of Fremont's survey party, and Johann August Sutter by authority of the letter of August 16, 1846, quoted here, became a lieutenant of the land forces of the United States:
"The appointment of Capt. Sutter as Lieutenant on the terms mentioned in my letter of the 8th. is approved and will be continued until further orders. It is necessary, however, that he take the oath of allegiance to the U.S.A."
This was addressed to Edward M. Kern, "commanding post at Fort Sacramento," and was signed J. S. Misroon, Lt. U.S.N." Misroon was acting under the orders of Captain John B. Montgomery of the U.S.S. Portsmouth, who in turn reported to Commodore R.F. Stockton, he having succeeded Commodore Sloat in command of the naval forces in California.
Sutter's stipend was fixed at $50.00 a month, and as second in rank he did much of the "paperwork" of the "post" where formerly he had been monarch of all he surveyed.
Sutter's life was never monotonous. The path of his career led over high mountains and into deep valleys. The ups and downs ever found him buoyant; an optimist whose eyes were scanning the horizon for the first signs of the dawn of a new day.
Back again in command of his Fort after the occupation period, his mind turned to schemes of aggrandizement. He sat at the crossing of two highways of immigration; that from the East by way of the Great Salt Lake, and the road leading down from Oregon. To his distillery, a tannery had been added, and now he planned a great flour mill to supply the steady stream of new-comers trudging westward to the promised land--California.
A sawmill was necessary. The oaks of the valley and the jack pines of the nearby foothills did not make good lumber, and so a search for a stream which might turn a mill was undertaken; one that flowed through timber suitable for his purpose. A mill-wright named James Wilson Marshall from New Jersey found what was wanted; a forest of tall pines bordering the south fork of the American river. Marshall and Sutter entered into a partnership. The mill was started, Mormon workmen, honorably discharged soldiers of Lt. Col. Philip St. George Cook's Mormon battalion, camped at mill site, known later as Coloma.
Marshall's discovery of those first golden flakes January 24, 1848 in the race of Sutter's sawmill started the mad scramble after quick riches that history calls the "Gold Rush." California, Sutter and Gold became household words the world over. What had been a precarious foothold in the wilderness a short nine years before, now took on the prominence of a metropolis. Sutter's Fort became the mecca toward which the eager feet of all gold seekers turned.
The onrush of the race for wealth was like the letting loose of the pent-up waters of a mighty torrent. It swept everything before it. Sutter's wealth in cattle disappeared; his fort was turned into a thriving mart; his Indians and white employees deserted him. He was left bewildered, and sought refuge on the banks of the Feather River where he possessed what he called Hock Farm.
Just one more high spot was destined to mark his career. Upon the call of the American military governor, Gen. Bennet Riley, for a Constitutional Convention to formulate an organic law for California, Sutter was chosen as a delegate. Through the long sessions of this gathering at Monterey in September and October of 1849 Sutter sat in silence, save on one notable occasion. A proposal had been advanced that only those residents who had brought their families with them to California should be given the franchise. Then it was that Johann August Sutter rose in his place. "That would deprive me of my vote, though I have been long in California," he protested plaintively. For during all those years since 1834 Anna Dubelt Sutter and their children had remained in far off Switzerland. Soon Sutter was to send for them.
When the convention ended its labors, Sutter was honored with the task of presenting to Governor Riley the result of its deliberations. This was the peak of his political life; the moment of greatness of which he had long dreamed. It was a recognition of his prominence. With tears in his eyes and a trembling hand, he passed the charter of California liberties to Governor Riley and spoke a few halting words.
Thirty-two long years of strife and struggle followed. The family came. They found the once resourceful pioneer bowed with bitterness. Squatters were contesting the title to his hard won possessions. Grasping lawyers were assailing his rights. From Court to Court they dragged the bewildered Sutter, stripping him of what was rightfully his. From affluence he sank to a grateful receiver of alms when the State of California granted him a pension of $250.00 a month. Then he turned his back on the scenes of his triumphs and in the little Moravian settlement of Lititz in Pennsylvania, where the Brethren of the Unity received him and asked no questions, he found asylum.
His efforts to induce Congress to recognize his woes and give him relief were all in vain. He became a familiar figure about the Capitol during sessions, urging his case, but to no purpose. In a cheap Washington boarding house he breathed his last; a disappointed, defeated man.
They buried him in the peace and quiet of the little cemetery at Lititz. There the simple marble slab which marks the end of his wanderings records the fact that he was born February 28, 1803, and that he died June 18, 1880.
Six months later another grave was dug at his side for Anna Dubelt Sutter, his wife, whose constant companionship during the last thirty years of his life was Johann August Sutter's greatest consolation.
Sutter's so-called Diary appeared in four issues of the San Francisco Argonaut--January 26, February 2, 9, and 16, 1878--and at that time the Argonaut's editor prefaced it with:
"The following rough notes of narrative in the handwriting of the venerable General Sutter, the discoverer of gold in California, were found amongst the papers of an eminent citizen of this State, recently deceased, through the kindly courtesy of whose widow we are enabled to give them to the public. As a relation of incidents in the life of a man held in respect by every Californian, and as a record of events closely associated with, and largely contributing to, the foundation of American Empire on the Pacific Coast, these hasty and imperfect memoranda will, it is believed, have a double interest and lasting value. We have thought it best to preserve, as nearly as was practicable, the quaint phraseology, erroneous orthography, and imperfect punctuation of the manuscript; these peculiarities being obviously only the failures of an intelligent foreigner struggling with the difficulties of an unfamiliar tongue, and giving, in our judgment, an added charm to the narrative."
Sutter wrote this narrative with a definite purpose sometime in May or June of the year 1856; that purpose was to place in the hands of his legal advisors the facts of his life from the day of his departure from St. Louis until the time of its writing so that they might carry on before the United States Land Commission and the Federal Courts his struggle for the confirmation of the title to his two Mexican Land Grants. The first or Alvarado Grant was finally confirmed; the second or Micheltorena Grant was rejected, resulting in Sutter's poverty and his subsequent fruitless attempts at its restoration.
It is to be regretted that the entries in Sutter's Diary end long before the great adventurer's death, likewise that the original of the narrative has disappeared, but what we fortunately possess does give us more than an inkling of what manner of man was this Johann August Sutter--called by his Spanish-speaking friends, Don Juan Agosto--who carved out for himself a principality in the wilderness of the Sacramento Valley, and there planted seeds of civilization whose fruit was the Discovery of Gold and the ultimate upbuilding of California.
---
THE SUTTER DIARY

Excepts from Captain Sutter's diary first appeared in 1878 in the San Francisco Argonaut, and were reprinted by the Grabhorn Press in 1932. These diary selections were apparently made by Sutter as part of his struggle to win title to lands that were granted to him under Mexican law. According to the Argonaut the Sutter manuscript was written in 1857.

Douglas Sloane Watson (1875-1948), who wrote the brief biography of John Sutter for this book, was a writer and editor who specialized in museum-quality limited-edition reprints and facsimiles of early California books and documents. He was a prolific contributor to the California Historical Society Quarterly, and wrote "Did the Chinese discover America? A critical examination of the Buddhist priest Hui Shen's account of Fu Sang, and the apochryphal voyage of the Chinese navigator Hee-Li" for that journal in 1935.

He also wrote stories about early California history that were privately printed for members of the Roxburghe Club in San Francisco, and the Book Club of California.

Gladys Hansen
February 2000

---
IN: The Diary of Johann August Sutter / with an introduction by Douglas S. Watson. San Francisco : Grabhorn Press, 1932.
Continue to Captain Sutter's diary entries for 1838
Return to the top of the page.