FISTIC ORGIES AT THE CIVIC AUDITORIUM
---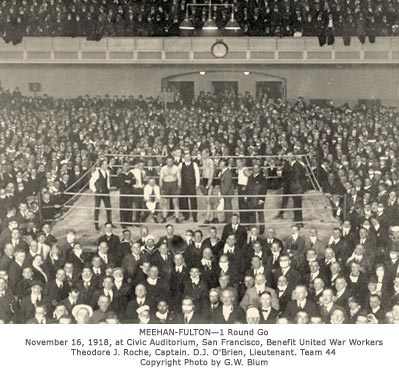 The San Francisco Board of Supervisors developed another phase of contempt for public decency, this week, when they passed an ordinance giving pugilistic sport managers the privilege of presenting fight contests in the Civic Auditorium. Politics and other forms of selfish rake off are, of course, behind this disreputable action. Prices of admission to view these fight "contests" have been reduced by the promoters, in order to make the Auditorium the most popular in town in baiting that kind of sport.
Since the rehabilitation of San Francisco from the effects of the great fire of 1906, together with the recent world wide fame bestowed upon her through the successful International Exposition and the completion of the Panama Canal, the city has occupied a prominent position in the limelight of the world's affairs.
Our Auditorium, like all others in the land, was erected with pride as a noble structure in which residents might gather and enjoy innocent amusements or discuss subjects of civic development and wider vision.
What will the cities of the country think of us when they learn that we are renting our Auditorium for brutal fisticuff exhibitions every Saturday night, and accept it as an indifferent matter of course.
The Chamber of Commerce and other local public institutions of civic welfare and backbone should promptly quash this violation of civic decency.
---
San Francisco News Letter
September 2, 1916
Return to top of page