Beloved Bonanza King
William Chapman Ralston
(Born at Wellsville, Ohio, January 12, 1826—died in San Francisco, August 27, 1875)
---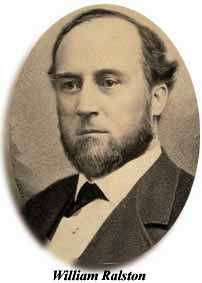 One of the bonanza gods San Francisco loved was William C. Ralston. In the summer of 1875 he was a hero and a prince in the eyes of the ordinary people. He was a bank president, backer of great and small business enterprises, builder of a vast, unfinished hotel, confidante of little men to whom he loaned money on character alone. Secret donor of funds to educate promising sons of men with little money.
A former cabinet maker, Ralston won the hearts of workers in the factories he financed. Whether it was a business to teach erring boys a trade, blight crime in the bud, a real estate development in Marin County, a mine in Washoe or a railroad, Ralston was always eager to help. His door stood open to callers no matter how lowly and in need of money.
Gallant, Genial
Ralston had achieved the dreams of ordinary men had dreamed in vain and wore his success with so much more grace than any other man that he was a symbol of everything that might have been. He was gallant, colorful and genial, quick-witted and full of imagination. The men he had known when he arrived in San Francisco at 28 with nothing but a clerk's job received the same friendliness in 1875 that he had given them in 1854.
The countryside, from San Francisco to Belmont, identified itself with Ralston's flair for magnificent living in his country place, the old Cipriani House in Canada Diablo, which he had enlarged to four stories and 100 rooms. The 300 gas lights glittered in the crystal chandeliers, the ballroom and gracious staircases were splendors.
Party Legend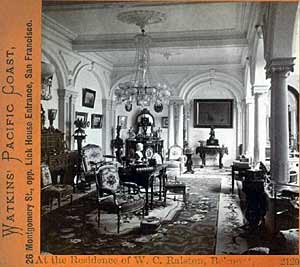 There were legends of great parties, of guests with flying veils riding in carriage behind teams of horses driven by the debonair Ralston, racing the San Jose train from the Valencia Street Station to Belmont, of dinners, of background music played by an imported orchestra, of coaching parties and picnic luncheons on the beach. It was living on a grand scale and all took a personal pride in the facts he related.
That is why it brought a personal loss to thousands when a breathless man collapsed in the coroner's office after a long run from Meigg's Wharf on August 27, 1875, gasping:
"There is a man just now drowned near my bath house. I think it is Mr. Ralston ... I know it is!"
Town Shocked
The news resounded through the town. The run [on the Bank of California] had started with little warning. The bank had closed after paying out $1,400,000 in one day.
The story of Ralston's predicament was talked about everywhere. Those who felt they had lost a bosom friend grew more and more convinced that the crash of the Bank of California had been rigged to get Ralston.
Those who did not share the public's worship remarked "He was speculating."
There was talk of suicide but the coroner's inquest, on which depended life insurance for Mrs. Ralston and four children delved into the testimony, found that doctors observed evidence of an apoplectic stroke, none of drowning. This was borne out by the autopsy.
---
San Francisco Call-Bulletin
Monday, October 10, 1955
Return to the top of the page.