Joseph Paul Di Maggio
(1914 - 1999)
Joe Di Maggio was laid to rest Thursday, March 11, in Colma, California, south of San Francisco, after a private funeral service at St. Peter & Paul Church in North Beach. About 60 close friends and relatives, as well as major league baseball Commissioner Bud Selig, attended.
The Di Maggio family asked that donations be sent to the Joe Di Maggio Children's Hospital and to the Hospice Care of Broward County, Fort Lauderdale, Florida.
Joe Di Maggio, one of America's greatest baseball players, was born November 24, 1914, in Martinez, across the bay from San Francisco. His family then moved to San Francisco's North Beach, and young Di Maggio spent his early years here in San Francisco. He died at his Hollywood, Florida, home, March 8, 1999, at the age of 84.
The White House Tuesday joined Americans in mourning the death of the great Di Maggio when it released a statement from President Clinton:
---
"Today, America lost one of the century's most beloved heroes, Joe Di Maggio. This son of Italian immigrants gave every American something to believe in. He became the very symbol of American grace, power and skill. A brilliant individual performer, he led his magnificent Yankees to the World Series 10 out of his 13 years. His electrifying 56-game hitting streak, unequaled to this day, is one of the most remarkable achievements by any athlete in any sport.
"He stood tall off the field as well. In 1943, he volunteered for the Army and swapped his Yankee paycheck for $50-a-month private's salary. He and the foundation he started gave mightily to help poor children benefit from the world's best medical care. And he was an incredibly devoted father, grandfather, and great-grandfather.
"I have no doubt that when future generations look back at the best of America in the 20th Century, they will think of the 'Yankee Clipper''and all that he achieved. Hillary and I extend our thoughts and prayers to his family."
---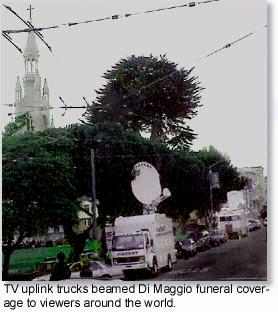 Here in San Francisco, Mayor Willie Brown ordered city flags lowered to half-staff in memory of the baseball player who began his career with the San Francisco Seals. "Joe Di Maggio was one of San Francisco's finest. A man integrity and class, a superb ballplayer, a man both inspiring and inspired," said the mayor.
Joe Di Maggio was 18 years old in 1932 when he joined the San Francisco Seals of the Pacific Coast League, and played with them until his contract was sold to the New York Yankees. He played the last three games of the 1932 season without a Seals' contract, and then signed for the 1933 season. In his rookie year, 1933, he set a PCL record with an impressive 61-game winning streak that lasted from from May 28 to July 25th. He came to bat 257 times during that streak, hit safely 104 times, and came away with a .405 average. His rookie year also saw young Di Maggio hit 28 home runs and 169 RBIs.
In 1934 Di Maggio suffered a freak accident that almost cost him a major league career. He tore the ligaments in his knee when getting out of a San Francisco taxi cab, and major league scouts were leery of recruiting an injured player. He sat out much of the 1934 PCL season.
He played well during 1935 under the legendary manager Lefty O'Doul, and hit .398 with 154 RBIs, 34 home runs and 173 runs scored. But the Seals' management, which wanted to sell his contract in 1934 for $100,000, settled for $25,000 and the services of five other ball players, when he went to the Yankees for the 1936 season.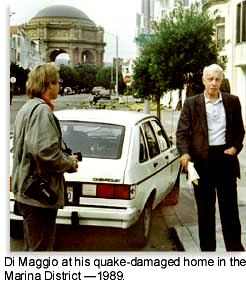 The Yankees' management saw Di Maggio as a worthy successor to the legendary Babe Ruth, and, in 1941, his 56-game hitting streak (May 15-July 16, 1941) set an all-ime record, and earned him the nickname "Joltin' Joe."
Di Maggio became a national hero just before World War II, and a hit recording about his hitting streak was cut by Les Brown and his Orchestra for the Columbia label in August 1941. It rose to No. 12 on the charts, and reflected America's asteem for him. The recording, "Joltin' Joe Di Maggio," can be heard here in RealAudio.
DiMaggio played in 11 All-Star games and 10 World Series in 13 seasons with the Yankees. He was a two-time batting champion and a three-time most valuable player.
His 1941 56-game hitting streak, one of the greatest feats in all of sports, is still a record, and his marriage to Marilyn Monroe in 1954 secured his place in American popular culture.
The San Francisco News reported in March 1942 that Joe Di Maggio's elderly parents might be evacuated from San Francisco as enemy aliens. The report came as Japanese, Germans and Italians were rounded up following the Japanese attack on Pearl Harbor. As it was, there was no wholesale roundup or internment of Germans and Italians as was the case with the Japanese. However, Italian fishermen in San Francisco were not allowed to go into the bay, and many were forced to move away from the coast. The restriction kept his father, Giuseppe Di Maggio, from visiting the Fisherman's Wharf restaurant owned by his son, Joe.
He was voted into the Hall of Fame in 1955, four years after his retirement, and in 1969 was chosen as the greatest living baseball player.
---
Gladys Hansen
March 11, 1999