---
Eugene E. Schmitz (1864 - 1928)
---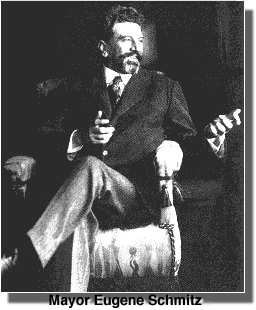 Born in San Francisco on August 22, 1864, he was a musician and occasional orchestra leader who rose to the presidency of the Musicians' Union. That position gave him entry into society, along with nominal membership in the labor movement.
Perhaps because of this unique position, "Handsome Gene" came under the appraising eye of "Boss" Abraham Ruef.
Ruef, with a minimum of delay, installed the handsome and popular Schmitz as his newly-formed Union Labor Party's mayoral candidate.
To the considerable surprise of all concerned, 1901 saw him elected Mayor of San Francisco; the first Union Labor mayor in United States history.
---
1906 brought San Francisco two shocks: the Great Earthquake and Fire, and the indictment of Mayor Schmitz on 27 counts of graft and bribery. Convicted, and given the maximum penalty, he appealed and the conviction was reversed by the Appellate Court and the State Supreme Court.
Freed of the legal stigma, he returned to politics and, after an unsuccessful bid for the Mayor's chair in 1915 and again in 1919, was elected to the Board of Supervisors where he remained until 1925.
He was engaged in private business until he died in San Francisco November 20, 1928.
---
IN: The San Francisco Almanac