---
John Lesesne DeWitt (1880-1962)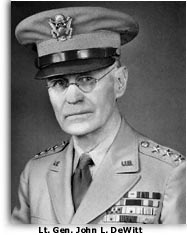 American World War II military leader responsible for the worst abuses of civil liberties in the history of the United States.
Holder of the French Legion of Honor for service during World War I. Assigned to the War Department General Staff from 1919 to 1928. He was Quartermaster General of the army from 1930 to 1934. He then served in the Philippines, and commanded, 1937-1938, the U.S. Army War College.
He was then assigned to command the Fourth Army headquarters at the Presidio of San Francisco. There, he was responsible for forcing more than 115,000 persons of Japanese ancestry in "relocation camps."
During his tour at San Francisco, as commander of the Western Theater of Operations, Japanese submarine shelled a military depot at Fort Stevens, Oregon, June 22, 1942. It was the first attack by a foreign power on a continental U.S. military installation since the War of 1812.
Lt. Gen. DeWitt also commanded Operation Landgrab, the 1943 military battle that stopped the Japanese invasion of Alaska's Aleutian Islands.
He was commandant of the Army and Navy Staff College from 1943 to 1947. He retired from the Army in 1947 with the Distinguished Service Medal and four oak leaf clusters.
Remarkably, Congress, seven years after his retirement, promoted DeWitt to full generalcy.
He died in 1962.
---
See: Gen. DeWitt's Instructions to Persons of Japanese Ancestry
See: Gen. DeWitt's Final Report on the Evacuation of the Japanese
Return to top of page
---