Roscoe "Fatty" Arbuckle (1887-1933)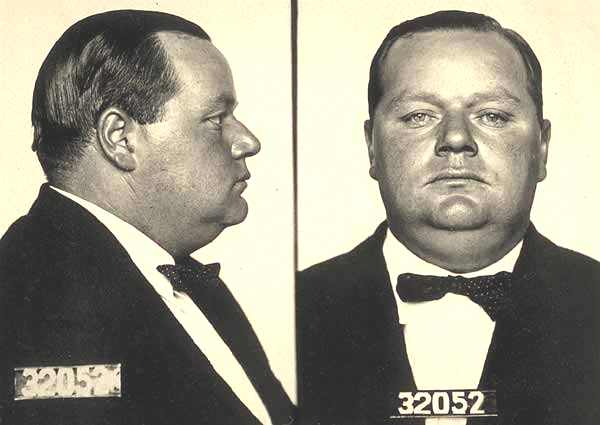 San Francisco Police Department booking photograph, or "mug shot," of Roscoe "Fatty" Arbuckle, taken shortly after his arrest for the death of Virginia Rappe.
Rooms 1219-1221 of San Francisco's plush St. Francis Hotel were the setting of the silent film star's 1921 Labor Day weekend party where the victim was either injured, or suffered from a botched abortion.
Miss Rappe, variously described as a "starlet," or "call girl," died of peritonitis four days after she was allegedly attacked by Arbuckle at the lavish party.
The Hearst press, led by the San Francisco Examiner, sensationalized the already sensational, and Arbuckle suffered through three trials before he was acquitted.
---
See: Disney's Mr. Showbiz site for more on Roscoe Arbuckle.
See: Paul H. Henry's "Portrait of an American Scandal."
See: Mabel and Fatty at the 1915 World's Fair.
---
Return to the top of the page.