A0003 – ORIGINAL MAP – "Antient and Modern Egypt by Samuel Dunn, mathematician, London, printed for Robt Sayer No. 63 Fleet St., as the act directs 10 Jan 1774."
This is a lovely copper engraved hand-colored map that was once part of an atlas. Both the modern and ancient names for locations are given on this map which covers Egypt from the Nile Delta to the Tropic of Cancer and the first cataract. Some of the areas of interest include the Nile River with all it's tributaries, mountain ranges in Egypt, the dominions of all the different Sheiks, as well as Mount Sinai and Mount Horeb in Arabia.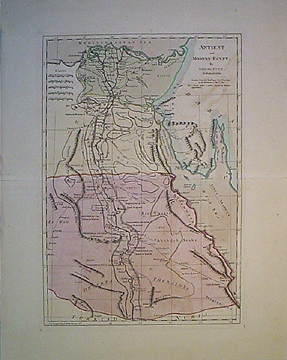 The key reads as follows: Roman miles 75 to a degree
Stades of Heroditus 671 to a degree
Stades of Egypt 533 to a degree
Geometrical miles 60 to a degree
British miles 69 ½ to a degree
The map is in good condition with some slight wear but no tears. There is a small (approx. ¼ inch) error of blue coloring as if the map was folded while the coloring was wet.
SIZE: 21 in x 18 in. (533.5mm x 457mm)
PRICE: $100