The San Francisco Conference of the United Nations 1945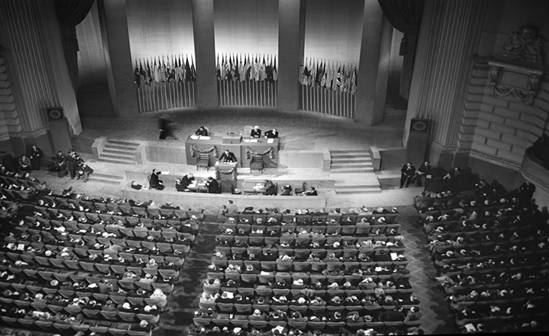 United Nations Charter Conference in San Francisco, California, USA, 26 June 1945.
Photo # 549911
75 years ago history was made when the United Nations, the world's first international organization designed to bring together all the nations of the world was born. Having experienced two world wars in just 31 years, the nations of the world were hungry for peace so they gathered in San Francisco and created a new organization focused on peace, human rights and development. The organization also created a number of humanitarian agencies to effectively serve the needs of the peoples of the world.
Now 75 years later the United Nations commitment to serving the world community is as strong as at the time of is birth. While many people today think that the UN is just about peacekeeping, actually the United Nations is much more. Through its network of humanitarian agencies the organization is feeding the hungry, educating children, resettling refugees, rebuilding communities, protecting human rights, providing maternal services, fighting infectious diseases, preserving the environment and providing a host of other vitally important programs and services to the world community. Please visit www.un.org for more informational on the United Nations.
The photographic images appearing in this 75th Anniversary Exhibit are used through the kind permission of the United Nations Photo Library.
Bill McCarthy, Curator
United Nations History Section
Museum of the City of San Francisco

Text and Slide Shows
Education and Resources List
Important Links